10 Piece Nadir PIM Bullion per 0,10 grams 999,9 Fine Gold Refiner zert. 24 Carat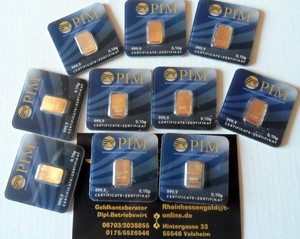 ---
Schauen Sie auch bei meinen anderen Auktionen vorbei!
Bei Rückfragen 0175 5526546
Das Metall der Götter als wert sicheres Zahlungsmittel
LBMA zertifizierter Goldbarren mit EchtheitszertifikatMaterial: 999,9 FeingoldGewicht: 0,10 GrammHersteller: PIM GoldBarrengröße: je ca. 13 x 8 mmFortlaufende Seriennummer für Ihre SicherheitAlle Goldbarren haben ein Zertifikat und sind versiegelt in einer Scheckkarte eingeschweißt (ca. 35 x 35 mm).
English description:
10 x 0.10 GRAM SOLID GOLD BULLION BAR .999 FINE
- Gold bar is .999 solid, pure Gold. Not plated-No mixed metals!- It was made at NADIR PIM GOLD, which is a certfied by LBMA.- Size is around 13mm x 8mm. Weight is 0.10 grams. Sealed in blister.- The gold bar you will receive looks just like the one in the picture.- I'll send your item within one day of receipt of payment. Save shipping costs for multiple items: Please ask- If there are any issues, please let me know. I will work with you to provide complete satisfaction.
Wer weiß, wie stark der Goldpreis noch anzieht? In Krisenzeiten könnte der Wert z.B. einer Krügerrand-Goldmünze Beträge übersteigen, auf die im Zweifel kein Landwirt, Gemüsebauer oder Handwerker mehr herausgeben kann.Bei einem späteren Verkauf ist man mit kleinen Goldstückelungen wesentlich flexibler.Hervorragend auch als werthaltiges Geschenk für Freunde und Verwandte geeignet.